Lovetts online client portal, CaseManager is a unique case management portal which allows a client to have complete control over the debt recovery process. CaseManager allows clients to instruct Lovetts Solicitors and view their cases 24/7. To ensure CaseManager remains a market leading client portal for debt recovery, Lovetts is continually looking to enhance and develop it. Accordingly, Lovetts recently sent out a client satisfaction survey in order to gather our clients valuable feedback.
The results of the survey are detailed below and the feedback will enable Lovetts to provide our clients with the features and updates that they want to see. At Lovetts we want to make the debt recovery process as simple and stress free as possible. Accordingly 60% of clients that took part in the survey rated CaseManager's ease of use either 4 or 5 stars out of 5.
66% of clients said they check case information either every time or most times that they login to CaseManager. With the remaining 33% saying they sometimes check case information. For us, this shows that this functionality is really useful and is time effective for both the client and for Lovetts as clients can simply login to their account and have their case information within seconds.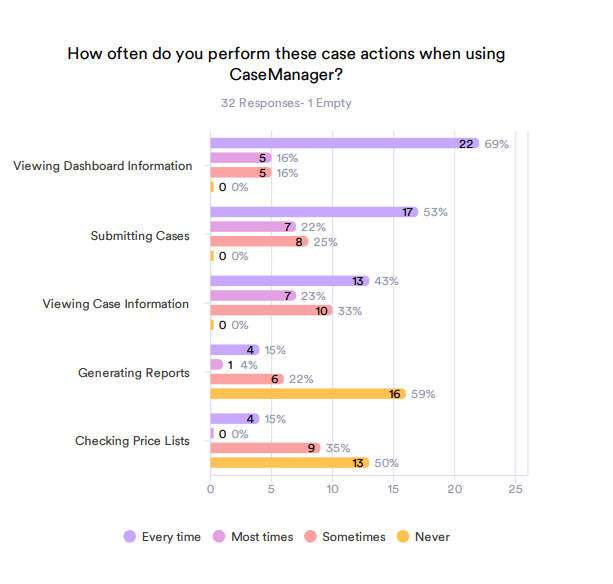 On the flip side we can see that 79% of clients that took part in the survey said that they never view auditing information or search for legal resources. Therefore this is something that we may look to remove.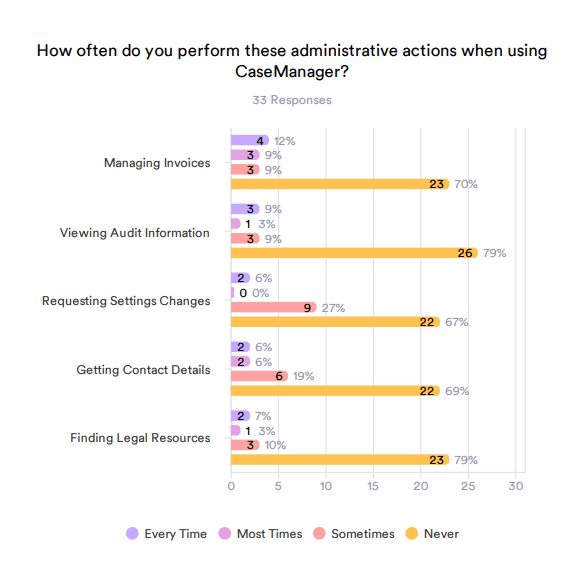 Most of our clients (75%) told us that they use CaseManager either daily, weekly or monthly with the remaining 25% using CaseManager yearly. CaseManager is so useful for many different reasons, not just instructing us on a case. Clients are able to check the status of cases, run reports, make changes/updates to their account and much more on CaseManager at any point in the day. Therefore, this result is assuring to see as we can imply that the information provided on their is useful for clients.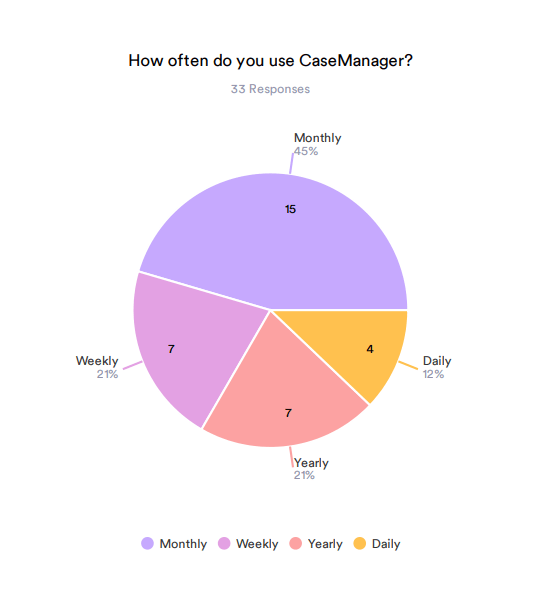 We would like to say a huge thank you to all of the clients that took part in our survey and allowed us to gather some valuable information which can be used to improve your CaseManager experience.
For every survey completed, Lovetts donated £2 to Oakleaf, which is a mental health charity Lovetts supports. They carry out fantastic work and Lovetts would like to thank all the clients that participated in the survey.
If you have any questions above the above please do not hesitate to contact us at [email protected]
Things can only get better… 2013 Court Services Satisfaction Survey paints grim picture ahead of 25th CCUA Annual Conference, 15th October 2013
www.lovetts.co.uk
One year after a damning report on the state of the court service in the UK, a new satisfaction survey conducted by the CCUA (Civil Court Users Association) with the support of Lovetts Plc, the debt recovery law firm, has painted a similarly grim picture with either no improvement or a further deterioration in service levels. An overview of the findings has been released ahead of the CCUA's 25th Annual Conference taking place at the Leicester Marriott Hotel on 15th and 16th October 2013.
The survey was completed by 49 major corporate and legal firms representing the UK's largest users of the court service – the majority of whom use the court services on a daily basis. Their participation in itself demonstrates the depth of feeling about the service levels being experienced.
Respondents were asked to rate the quality of service provided by the CCBC (County Court Bulk Centre), local county courts and the CCMCC (County Court Money Claims Centre) over the 6 months from January to June 2013 and whether they had improved, stayed the same or deteriorated.
Brian Havercroft, Chairman of the CCUA said: "Last year we conducted the first ever satisfaction survey amongst court users. The findings were so shocking we wanted to repeat the exercise this year to establish whether any improvements had been made. To say this year's survey responses are disappointing is an understatement. Feedback suggests there has been very little improvement and in some areas service levels have actually declined further. Staff knowledge at the CCBC is identified as a particular area of weakness with a marked deterioration in service levels compared to other aspects of the service. Just as an example, 2-5 minutes is the typical waiting time for phone calls to be answered by 24 of the firms and 12 of the firms who answered the survey typically wait over 5 minutes."
The picture isn't any better from the feedback on the local county courts. Just over 60% felt the speed and efficiency of services had worsened. Furthermore, 71% had experienced lack of response to correspondence and emails and over 60% had been inconvenienced by lost documentation.
Users of the CCMCC faced similar issues with problems experienced across all areas, however most worryingly the biggest concerns surrounded Claims and Judgments – the core purpose of their service.
Charles Wilson, Chairman of Lovetts adds: "Last year in a speech at the CCUA Conference, I reported on the dismal findings of the first survey – it was a very clear call for action and prompted a great deal of debate. It seems abundantly clear that the court service has failed to grasp the nettle and the reputation of many UK businesses continues to be unfairly damaged because of the failings of the system. It's about time the court service got to grips with the management challenges it faces and acted on this damning feedback."