Fear Stops 58% Of Businesses Claiming Late Payment Compensation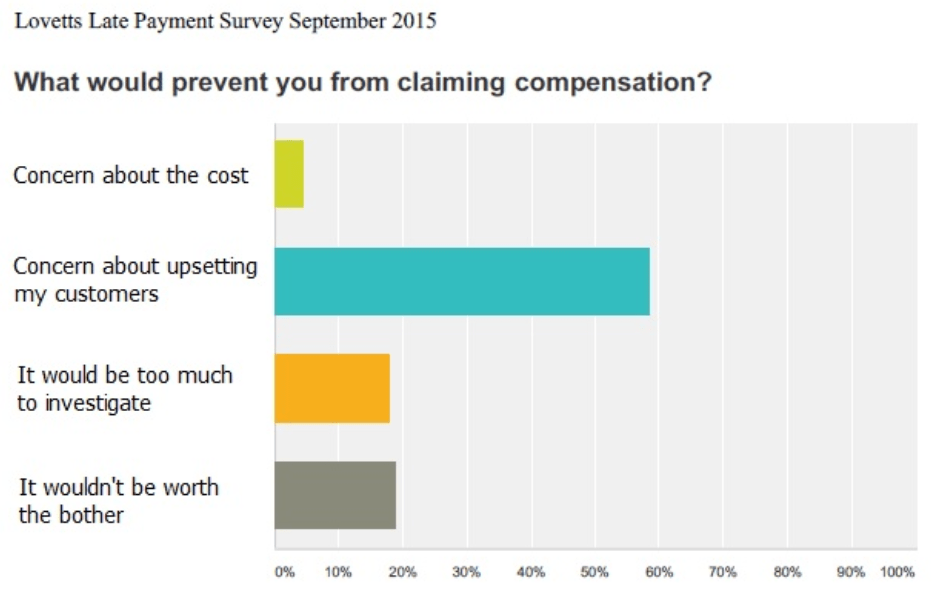 The legal right many UK businesses have to claim late payment compensation is being stymied by a fear amongst firms that doing so will upset their customers and lead to loss of business.
A recent survey of credit personnel* within small to medium sized businesses by Lovetts has found that 58% would not claim late payment compensation for this reason. This is despite the fact that almost 1 in 4 businesses are being paid on average 1-2 months late.
The survey found that only 22% get their bills paid within terms, 49% are paid within the following month while 23% have to wait 1-2 months after the payment due date.
Cost is not a barrier to taking action, the survey found that less than 5% of firms are put off by the cost. Furthermore, 20% don't think it would be worth the bother and 18% of the businesses surveyed think it would take too much time.

As such 48% never claim compensation, leaving just 20% that said they do. Surprisingly, when asked about claiming compensation from ex-customers, which businesses are able to do going back 6 years if their terms and conditions allow it, almost 60% said they wouldn't because it would affect their reputation.

The perception that action will lead to loss of custom is actually quite far removed from the reality in our experience and as such, it is a real concern that so many businesses live in fear of upsetting their customers by claiming what is rightfully theirs. A lot of this comes down to the terms and conditions which form the basis for the relationship – if it's made clear from the outset that late payment compensation will be claimed if payments are overdue, then there's no surprises and in fact, it can often incentivise customers to pay within terms to avoid the additional cost. We would really urge credit professionals to reconsider this highly cautious attitude to help get a grip on the late payment culture that is so pervasive in the UK today.

Philip King, Chief Executive of the Chartered Institute of Credit Management said: "Our CICM UK Credit Managers' Index is showing demand for credit is largely on the up. This adds to the wider picture of an improving economy and greater trading confidence amongst UK businesses. However, it is important that firms taking on new customers, extending credit, and expanding their order books have robust terms and conditions in place that will protect them should bad debt become an issue. It is also important that they use all of the tools at their disposal including late payment legislation, best-practice credit management, and the Prompt Payment Code (PPC). Preserving good customer relations is important but so is preserving the future of your business."

* Survey of 149 Credit Professionals, September 2015
3 November 2015