Lovetts Solicitors appear at the Business Show on 16th and 17th May in London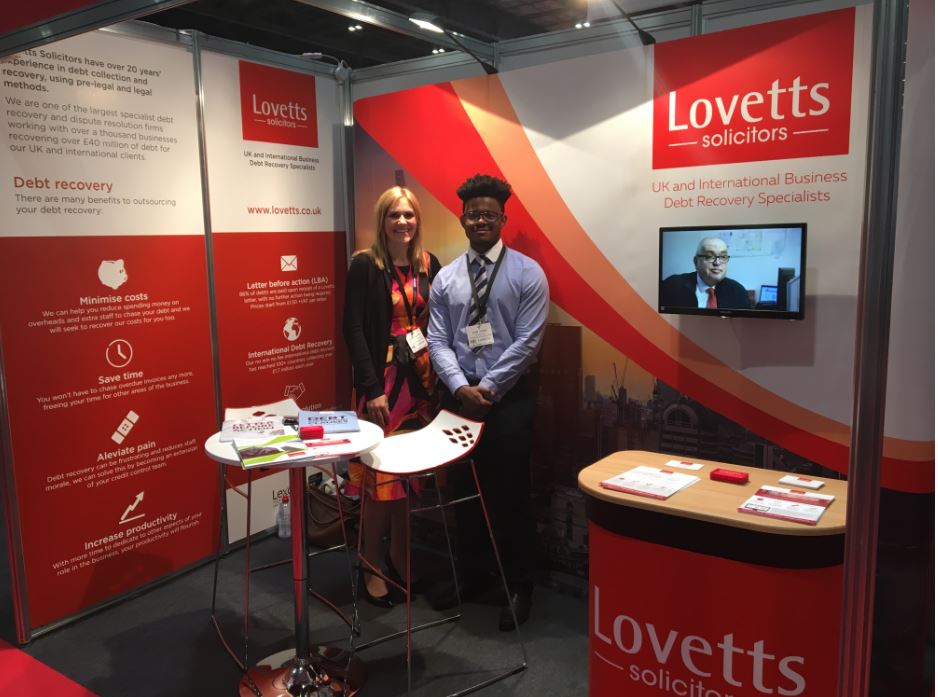 Lovetts Solicitors exhibited at The Business Show held at the London Excel centre on 16th and 17th May 2018.
It is the largest business show in Europe hosted by many growing businesses in the UK. The show provides a great opportunity for businesses of all sizes to network with over 25,000 aspiring, developing and expanding companies. It provides the opportunity to sell your products and services to these highly targeted visitors on a face to face basis.
Whether you are looking to grow your own business or to gain new contacts over a wide variety of different networking opportunities; this expo provides a wonderful chance to discover new opportunities and innovations. Come join us to see Britain's leading business experts share their stories and secrets. There will also be a chance to join in with the interactive training sessions led by industry experts. Attending this expo is also a great way to be exposed to businesses you necessarily didn't know about. Its common for start ups to think they're ahead of the game, however attending the expo shows you more about your industry and where its moving. This also provides insight on the latest trend in this ever changing economy.
During the exhibition, we presented our services for everyone that wished to come and find out about our UK and International Business Debt Recovery services. We also offered a few freebies that are essential to any aspiring entrepreneurs. We see ourselves a one of the industry's leading business debt recovery service. Its no wonder Lovetts won the Debt Recovery Law Firm of the year.
The Business Shows also provides insights from leading industry leaders from different backgrounds. The show will feature keynote speakers which include, Simon Woodroffe- founder of Yo Sushi and YOTEL. Perry McCarthy- Top Gears original Stig, Tommy Fordman- ITV Star and renowned successful entrepreneur. Jordan Daykin- BBC Dragons Den youngest and most successful Entrepreneur. If you have a thirst for knowledge then these keynotes could be an excellent learning tool for yourself or your employees. The reason behind why these keynotes are so special is because the speakers come from different walks of life. They've made mistakes and overcame obstacles along the way and are looking to share advice on how to overcome obstacles in your businesses.
This message speaks deeply into what Lovetts values and that is overcoming obstacles and sharing advice. We as a service make it our goal to inform our clients on how we can we help them, manage their clients who withhold considerable amounts of debt.
11 May 2018