Cassandra McCarthy speaks at Business Women in Surrey event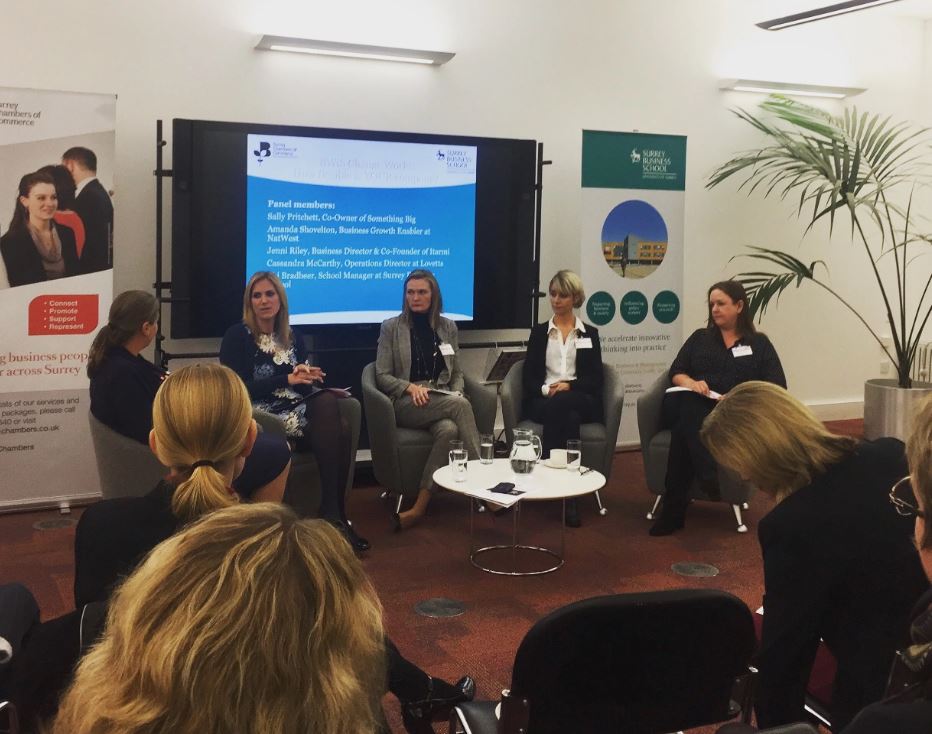 Cassandra McCarthy, Solicitor & Operations Director for Lovetts, this week spoke at a Business Women in Surrey (BWiS) event, as part of a panel discussing the topic 'Change Works – How Flexible is YOUR company?' Hosted at the Surrey Business School on the University of Surrey Campus in Guildford, the well-attended event attracted leading male and female business practitioners from a wide variety of industry sectors.

Joined on-stage by Sally Pritchett, Co-Owner of Something Big, Amanda Shovelton, Business Growth Enabler at NatWest, Jenni Riley, Business Director & Co-Founder of Itarmi and Abi Bradbeer, School Manager at Surrey Business School, the panel discussed the implementation of flexible working practices within business.

"It's important to facilitate development," said Cassandra McCarthy, Solicitor & Operations Director for Lovetts. "My request at interview stage to work 4 days a week, as a solicitor, was granted. I was swiftly promoted to a manager of a team and was able to do so within my flexible working arrangement. My Managing Director, Michael Higgins, had no doubts that I would be able to carry out the role, as I had demonstrated that flexible working can be successful and that there was never any impact on either staff or clients."

The panel shared practical experiences and examined pragmatic approaches to how companies can physically implement more flexible working patterns for their staff. Additionally, they looked at wider issues of fairness and equality in the workplace and adapting to social and technological change, inclusive interestingly of the next set of challenges now being faced by a new generation of individuals coming into the workforce.

"There is generational change," says Abi Bradbeer, School Manager at Surrey Business School. "And that's because so many things in our society are changing. Increasingly we have digital natives who are exposed to social media, and wider broadcast media. They come to us at 18-19 every year I'm not saying it's tougher these days, but the pressures are different and maybe more complex and student mental health for example is a big issue. But equally, we have a generation that is more able and willing to talk about their health, which I think is a tremendously helpful thing."

The panel emphasised that businesses are no longer solely adapting to traditional gender issues like opportunity and equality, but seeing an overall shift in employee attitudes and working processes.

"This is not just an issue that is related to flexible working hours around women or even parenting in general," said Cassandra McCarthy. "At Lovetts, we see examples of flexible working across the company. We have a number of younger staff members for example who are currently undertaking legal training, and have approached us to schedule their hours around that. Some people come early to avoid traffic, or find it helps to work from home on certain days. It's about evolving past that more traditional view of a 9-5 working structure and encouraging a level of flexibility through which people feel they are performing at their best."

You can find out more about the Business Women in Surrey (BWiS) network here.
2 November 2018